undated: James Godfrey, Hannah Jones, T Boulton S Stevens
Object number: 2006.0086.0002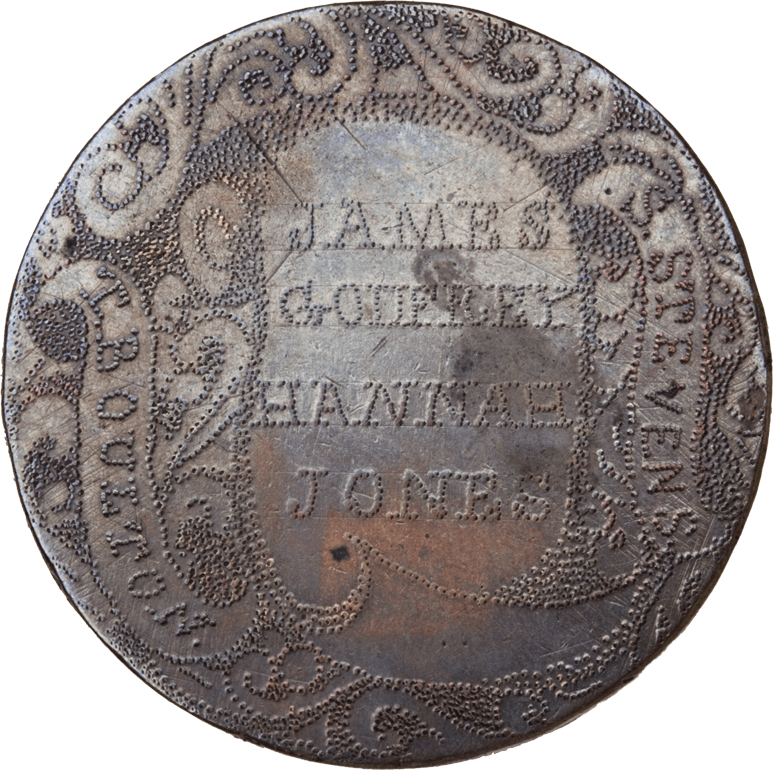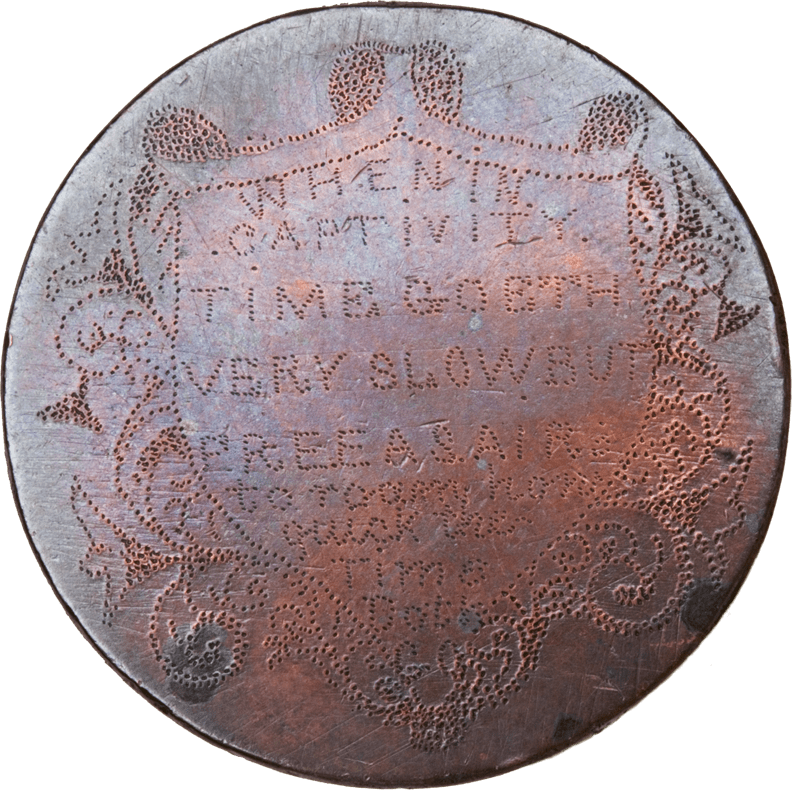 undated: James Godfrey, Hannah Jones, T Boulton S Stevens
Object number: 2006.0086.0002
James Godfrey, 33, baker, was convicted at the Central Court in London for larceny on 30 January 1837. He was sentenced to seven years' transportation. He sailed for Van Diemen's Land (Tasmania) on the Susan, arriving 21 November 1837. Godfrey was assigned to Mr J Knight in Launceston. However, he was accused of stealing and was discharged from his assignment in October 1838. In February 1841, James received six months' hard labour for being drunk and creating a disturbance. The government recommended a location in an interior district where he continued to be assigned to various masters. In August 1846, Godfrey left Tasmania a free man, bound for Port Phillip on board the Shamrock.
Diameter: 35mm, thickness: 2.5mm
Front:
Token engraved with an elaborate swirling stippled design and a scroll shape containing stippled text. To the left and right of the main text are the names:
T. BOULTON.
S. STEVENS.
Within the scroll are the names:
JAMES
GODFREY
HANNAH
JONES
Back:
Token engraved with a stippled shield design with an elaborate border of leaves and flowers, containing 10 lines of stippled text:
WHEN IN
. CAPTiViTY.
TIME GOETH
VERY SLOW BUT
FREE AS AiR[?]
to roam how
quick the
Time
Doth
GO
More tokens to discover
Thank you for your comment. You may need to reload the page to see your comment.
Return to top